I am butted up against my own frailty in that I may have "many plans in my heart" but find my own weaknesses and inadequacies make it exceedingly difficult to follow through with many/any of them.  Although beginning this blog was in part to be able to use this format as a type of "outlet" for some of the baggage being lugged along this life's journey it turns out that there are many times that even contemplating the process of writing things down, and exploring the myriad miasmas that manage to cloud my mental/emotional/spiritual horizons can many times be so overwhelming that it's nearly impossible to begin forming any type of coherent thought, let alone attempting to write it down.
One thing that is a comfort during these times of stagnant paralysis is to recall that the Lord knows that we are "dust" and that He understands All of our weaknesses.  Sometimes "abiding in Him" also means remaining with the pain and uncertainty and inability to move oneself along.
It's hard to accept being in this place for however long a season (lifespan!) and at times I chastise myself with the meaning of my name, Valerie: "strong of body and mind, persistent, will succeed".  Thinking I was formed/named to be such and finding myself incapable, in my own strength, of living up to such inherent expectations.
Forgiving oneself for inadequacies and weaknesses and learning to live with ambiguity and ongoing unfinished business, unresolved baggage, is a lifelong lesson that I have never fully mastered–does that mean it will continue until I can find some place of resolution?
4-22-18 addition (without re-reading above)
This music is so hauntingly beautiful & moving.  It has melancholy overtones yet is breathtakingly evocative.  Perhaps this is an artistic representation of why God uses sorrow & suffering in our lives to bring about His purposes–Beauty for Ashes & all!
6-23-18 addition (without re-reading above)
Here is an interesting music video by the group Need To Breath of their song "Multiplied" that gives a unique perspective into a realm of reality that we humans rarely directly encounter.  The camera work displays truths that exist but are usually beyond our sight & our comprehension.  It reminds me, in a way, how we are on this journey of life & often buffeted by forces we cannot control, seeing & (sur)passing things before we can even attain comprehension.  In spite of that uncertainty the light continues to shine, sometimes in breathtaking ways, making the mundane & discarded & even dead to sparkle & shine & intrigue us with mystery.  What a journey to be a truly surrendered soul, "God of mercy, Sweet love of mine, I have surrendered, to your design!"
8-13-18 Update
I just ran across this fascinating illustration of much of what happens at the cellular level.  We are truly fearfully & wonderfully made, as revealed in scripture…& science.  What an amazingly complex process the Lord designed to sustain & perpetuate life.
This video was found here initially: "Micro-biology in real time."
Saturday August 11th – Open Thread
8-17-18 Update
Yesterday Aretha Franklin passed on to glory & our loss is heaven's gain.  We are blessed that she left behind an archive of musical works that can continue to inspire us all.  Below is her rendition of "I Say a Little Prayer"…
This video was found originally here:
Thursday August 16th – Open Thread
Here is a moving picture & a bit of the story behind it:
This headstone was designed by the boy's father to celebrate his freedom from his wheelchair.  "Free of his earthly burdens"  Found here:
General Discussion, Friday, February 1, 2019
This moving video was posted at the Conservative Treehouse 2-27-19:
On 4-2-19, while doing some "catch up" reading at the Conservative Treehouse here:
Monday April 1st – Open Thread
there was a beautiful painting posted by another reader.  Here is their description
"Birch Forest" (1885) is a painting by Russian artist Isaac Levitan,
who advanced the genre of the "mood landscape".
Characteristic of his work is a hushed
and nearly melancholic reverie amidst pastoral
landscapes largely devoid of human presence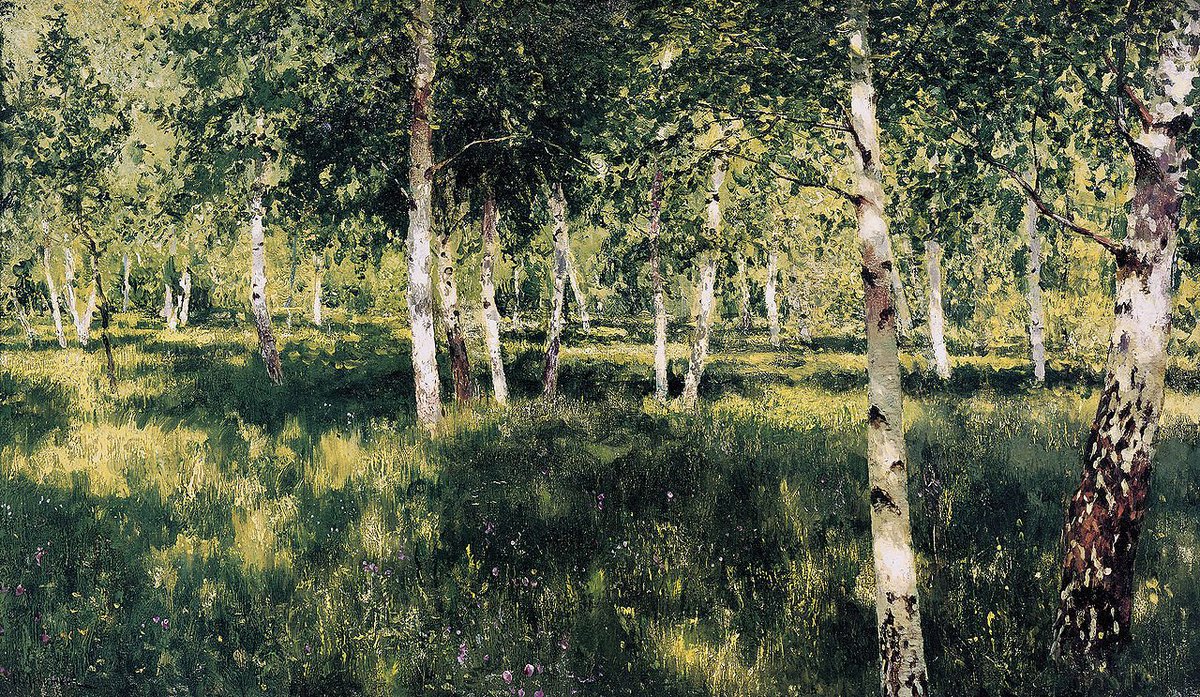 This picture reminds me of the innocence of childhood, the beauty of God's creation, & the joy of discovering birch trees anywhere, with their luminous white trunks which stand out so beautifully.  When I was very young my dad would occasionally write us kids a letter on found birch bark when he was one his deer hunting adventures…
What a precious testimony is shared here:
Adding this video on 4-29-20 in the hopefully ebbing days of the CoronaVirus Plannedemic, while things are still quite surreal.  I'll include the link where I found it & the comment by the one who shared it, my online friend Angel.  Blessings to All!
I miss how "Angel" would share various warrior insights on Mondays at The Conservative Treehouse & often have other warriors who very much understood where he was coming from share their hard won perspectives.  Quiet heroes among us!
Here's another video Angel shared at the link above moving & relevant for our times…
Here's a beautiful & fanciful video showcasing Van Gogh's work:
found here originally:  https://wqth.wordpress.com/2020/09/29/dear-kag-20200929-will-joe-show-open-thread/comment-page-1/#comment-611251
Posts Related to Frailty:
https://specialconnections.wordpress.com/2016/02/24/special-needs-church/
https://specialconnections.wordpress.com/2016/02/20/being-a-special-needs-mom/
https://specialconnections.wordpress.com/2016/02/19/righteous-anger/
https://specialconnections.wordpress.com/2016/02/18/commenting-on-only-the-rich-will-have-rights-article/
https://specialconnections.wordpress.com/2016/02/17/rarity-comfort/
https://specialconnections.wordpress.com/2016/02/16/anatomy-of-a-medicaid-physical/
https://specialconnections.wordpress.com/2016/02/15/there-is-no-such-thing-as-an-autistic-adult/
https://specialconnections.wordpress.com/2016/02/15/comments-on-pensive-aspie-blog-post/
https://specialconnections.wordpress.com/2016/02/15/vals-day-the-giving-receiving-of-names/
https://specialconnections.wordpress.com/2016/02/13/rend-your-hearts-how-to-break-your-heart-this-lent/
https://specialconnections.wordpress.com/2016/02/13/special-connections-origin/
https://specialconnections.wordpress.com/2016/02/13/getting-started/
https://specialconnections.wordpress.com/2016/10/19/relating-to-others-in-pain/
https://specialconnections.wordpress.com/2016/10/18/the-mask-of-normality-hiding-my-true-self-an-aspergers-conundrum/
https://specialconnections.wordpress.com/2016/10/15/outside-the-cool-moms-clique/
https://specialconnections.wordpress.com/2016/10/12/commenting-on-caught-in-the-act-of-bad-parenting/
https://specialconnections.wordpress.com/2016/10/11/touching-the-past/
https://specialconnections.wordpress.com/2016/10/11/commenting-on-autism-its-different-in-girls-so-is-adhd/
https://specialconnections.wordpress.com/2016/10/09/commenting-on-falling-forward/
https://specialconnections.wordpress.com/2016/10/09/pondering-purpose/
https://specialconnections.wordpress.com/2016/10/09/thoughts-on-faith-crisis/
https://specialconnections.wordpress.com/2016/10/09/commenting-on-yet-another-dna-explained-blog-posting/
https://specialconnections.wordpress.com/2016/10/09/commenting-on-a-genealogical-black-sheep-article/
https://specialconnections.wordpress.com/2016/10/08/commenting-on-anothers-autism-spectrum-journey/
https://specialconnections.wordpress.com/2016/10/08/updating-frailty/
https://specialconnections.wordpress.com/2016/11/23/commenting-on-a-transplant-tale/
https://specialconnections.wordpress.com/2017/04/02/encouragement/
https://specialconnections.wordpress.com/2017/04/26/autism-outreach-touching-lives/
https://specialconnections.wordpress.com/2017/06/10/20-years-later-red-wings-rocked-the-joe/
https://specialconnections.wordpress.com/2017/06/13/thoughts-on-i-cant-do-this-special-needs-life/
https://specialconnections.wordpress.com/2017/06/13/the-price-that-we-pay-as-the-keepers-of-the-memories/
https://specialconnections.wordpress.com/2017/06/16/reason-vs-emotion/
https://specialconnections.wordpress.com/2017/06/19/fathers-day-wanderings/
https://specialconnections.wordpress.com/2017/06/21/josiahs-first-post/
https://specialconnections.wordpress.com/2017/06/22/advice-for-the-young-and-penniless-who-want-to-travel-the-shooting-star/
https://specialconnections.wordpress.com/2017/06/22/sharing-from-2015-prayers-for-conner/
https://specialconnections.wordpress.com/2017/06/23/shorthand-hospital-run/
https://specialconnections.wordpress.com/2017/06/25/celebrating-the-life-of-the-legal-genealogists-nephew-tim/
https://specialconnections.wordpress.com/2017/06/28/love-poem-from-my-husband/
https://specialconnections.wordpress.com/2017/06/30/feelings/
https://specialconnections.wordpress.com/2017/07/12/stellas-place-comments-tom-thompsons-obituary/
https://specialconnections.wordpress.com/2017/07/27/sons-surgery-stream-of-consciousness/
https://specialconnections.wordpress.com/2017/07/30/four-years-ago-today-a-transplant-tale/
https://specialconnections.wordpress.com/2018/01/31/aging-gracefully/
https://specialconnections.wordpress.com/2018/02/17/commenting-on-mental-illness/
https://specialconnections.wordpress.com/2018/02/23/stellas-tribute-to-billy-graham/
https://specialconnections.wordpress.com/2018/02/23/american-abortion-abomination/
https://specialconnections.wordpress.com/2018/02/28/president-trump-honors-billy-graham/
https://specialconnections.wordpress.com/2018/03/12/classical-civilization-was-destroyed-by-islam/
https://specialconnections.wordpress.com/2018/03/16/the-plight-of-whites-in-racist-south-africa/
4 Comments