So on this page I plan to post various eclectic enjoyments…and this John Elefante song has such an amazing classic sound and Godly message that I want it easily accessible…so please join me in being ministered to and rocking!
I found this gem while looking up Mastedon the band that brothers John & Dino Elefante had back in the '80s.  I used to hear them on the Christian Rock radio station in the city where I attended college and so enjoyed their sound that all these decades later memory compelled me to see if any of their material was available online via YouTube…
Here are some youtube videos I found at TheConservativeTreehouse.com, where so many interesting people come to share & post fascinating & insightful items.  Enjoy!
Here is how the original commenter presented the below selection:
"Garrison Hall says:
Here is another beautiful video found at StellasPlace1.com with haunting piano & gorgeous natural images.  If I could play the piano well this style of play is what I imagine being one I would return to again & again.  Blessings!
This video has a slight Steampunk vibe & is quite haunting.  I found this one in the Conservative TreeHouse comments section from this link:
Saturday May 5th – Open Thread
& from the same CTH comments section this sublime jazz sound!
& here is some sweet MoTown Music…a blast from the past!
Watch "SKYGLOWPROJECT.COM: COLORADO SERENADE" by @SkyglowProject on #Vimeo https://vimeo.com/258908996
The video at the above link show time lapse photography of the sky from the perspective of the Colorado River Inside the Grand Canyon.  When I was a kid or young teenager my family, except my youngest brother, who was too young, took a raft trip down the Green River, a tributary of the Colorado River.  This raft trip traveled through similar canyons, though smaller, than the Grand Canyon.  So this video reminds me somewhat of the wonders we encountered on that special, once in a lifetime, vacation!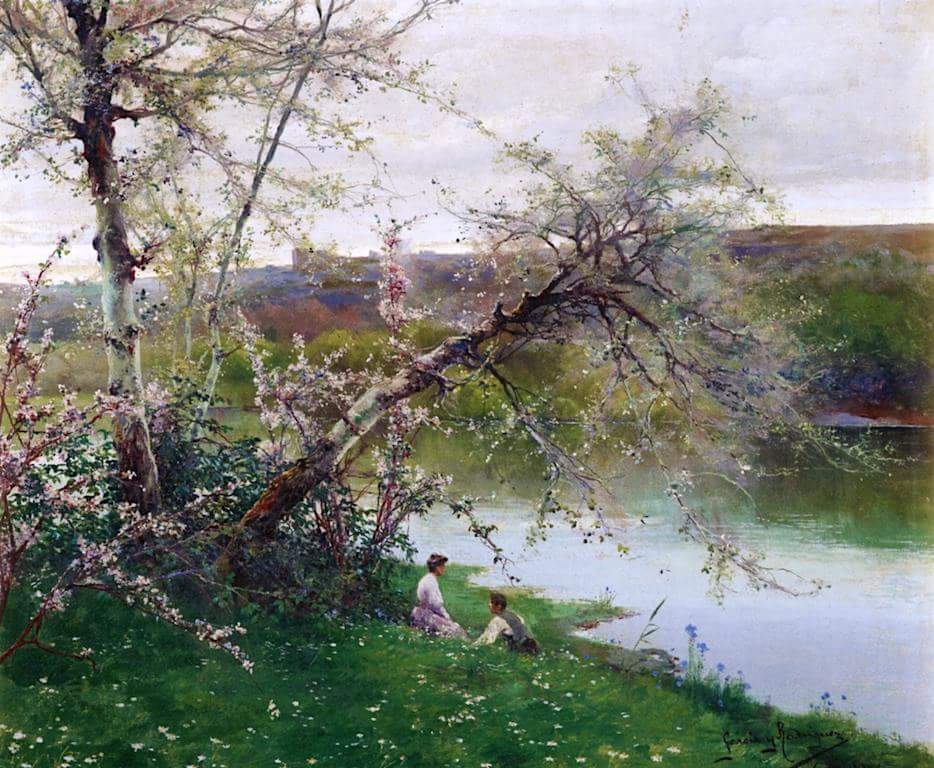 This gorgeous picture was posted also at the Conservative Treehouse from this link:
Tuesday August 7th – Open Thread
This helpful info accompanied the poster's entry:  "Manuel García y Rodríguez (1863 – 1925) was a Spanish costumbrista and landscape painter.
"A Romantic Moment on the River" (1911)"
Another commenter expands our knowledge with this "costumbrista or costumbrism means "the literary or pictorial interpretation of everyday life, mannerisms and customs"."
Here was my thought at the time:
Here is yet another find from the Conservative Treehouse Open Thread, from this link:
Thursday July 26th – Open Thread
Old movie stars dance to Uptown Funk
I really wish they would have listed All the sources for these many clips for some of these would be fun to see in their original format.  Hope you enjoy these too!  Blessings, Valerie
Here is another find from the CTH here:
https://theconservativetreehouse.com/2018/06/28/thursday-june-28th-open-thread/
Gorgeous! Watch "Transient: Extended and Unused Footage" by @Dustin_Farrell on #Vimeo https://vimeo.com/267362241
The above link was found here:
The following video is the soundtrack for the concept of "flights of fantasy" & is accompanied by gorgeous images…beautiful!
It was found here originally, fyi:
Tuesday August 14th – Open Thread
I haven't watched this one yet but like it conceptually & wanted to be able to find it…
& here's another find by a fellow Treeper…
Updated this page on 8-7-18…8-14-18…8-29-18…9-2-18…9-12-18…1-14-19
Posts Related to Flights of Fancy:
https://specialconnections.wordpress.com/2016/02/15/vals-day-the-giving-receiving-of-names/
https://specialconnections.wordpress.com/2016/10/18/the-mask-of-normality-hiding-my-true-self-an-aspergers-conundrum/
https://specialconnections.wordpress.com/2016/10/18/rocking-detroit-for-jesus/
https://specialconnections.wordpress.com/2016/10/18/steampunk-esque-music-video-discovery/
https://specialconnections.wordpress.com/2016/10/11/touching-the-past/
https://specialconnections.wordpress.com/2016/10/09/commenting-on-falling-forward/
https://specialconnections.wordpress.com/2017/06/10/20-years-later-red-wings-rocked-the-joe/
https://specialconnections.wordpress.com/2017/06/13/the-price-that-we-pay-as-the-keepers-of-the-memories/
https://specialconnections.wordpress.com/2017/06/19/bikers-rock-mid-michigan-for-jesus/
https://specialconnections.wordpress.com/2017/06/22/coney-island-mermaid-parade/
https://specialconnections.wordpress.com/2017/06/26/a-pleasant-peninsula-lovely-tribute-to-michigan/
https://specialconnections.wordpress.com/2017/06/29/josiahs-story-about-the-4th-of-july/
https://specialconnections.wordpress.com/2017/07/11/family-history-center-fun/
Leave a comment