June 5, 2018 (the initial posting)
This page will hopefully become a bit of a repository for things I find for free or cheap.
As a starting point I am a lifelong public library user. Moving to a new community leads inevitably to getting a library card ASAP. As a child I used to ride my bike to a couple of local libraries to check out items of my choosing. As a young adult my roommate & I used to check out "paintings" & wall art to decorate our spartan apartment. As a young mother I used to take my kids to various library programs for fun activities, education, & sheer variety. As the kids got older one library allowed them to borrow some video games, which they really enjoyed. As a parent of a special needs child the public libraries' (we usually participated in two different communities) Summer Reading Programs gave a bit of structure & support to a child with learning challenges & his overly energetic siblings. As a near empty-nester I have discovered the "joy" of the adult book club, something I'd never before experienced even though I've been a lifelong avid reader. Another recent library indulgence has been the local community jigsaw puzzle. It is a pleasure, & occasionally a social event, to spend some hours puzzling on my weekly library adventures with no worries on clean-up or even finishing! Another blessing at the library is online access. This has enabled me to communicate for free, via email &/or blogging, while away from home or when our home systems are not functioning. An activity to consider is also free movie showings at several local libraries.
Going farther afield from my nearby community there are public libraries that offer genealogy classes, crafts, gardening opportunities, free summer concerts, book club kits, kindle & other electronic devices/downloads, online research databases (Ancestry Library Edition comes to mind particularly), puppets, games, magic shows, lessons, senior citizen activities, activities for most ages/stages, conference rooms, study carrels/rooms, copying services, Inter-Library Loan, research (sometimes for a fee), look-ups, local history &/or genealogy collections, research librarian support, community notice boards, activity sheets (like crosswords, Sudoku, word search, coloring sheets, etc.), free governmental documents (tax forms, pamphlets, maps, etc.), and historical or genealogical collections (like the Bentley Historical Library in Ann Arbor next door to Gerald Ford's Presidential Library, & the Burton Historical Collection housed within the main branch of the Detroit Public Library).
In the past I also was able to make phone calls (I don't carry a cell phone) from strategic pay phones at many public libraries using my husband's work's 800# to reach him or a call forwarding center run by the state for families with special needs kids which also had an 800#.
I've used similar phone services, but in a changing manner over the years, at the hospital where my "special" son has received the majority of his medical care. Initially there were numerous pay phones & I used the above mentioned 800#s to keep family abreast of developments during surgeries & extended procedures &/or hospitalizations. When in-patient, if the phone was an included service & covered by my son's insurances, we would make calls bedside. If not there were available phones in the Family Resource Center (a family oriented service site in Mott Children's Hospital in U of M's massive Hospital complex in Ann Arbor). There used to be many strategically located payphones, near surgery waiting areas &/or central or food related locales but most of these phones have been removed (unfortunately). However, at U of M one can pick up any "house phone" & speak with an operator & request an outside line & place necessary calls that way. There have been some courtesy phones available at various clinic waiting rooms that allow for local calls or 800#s & they have occasionally been helpful.
The Family Resource Center has a courtesy snack area that usually provides coffee, tea, hot chocolate, cold water, & minimal donated snacks. These can be a pleasant pick-me-up after long hospital days. They offer electronic device charging, formerly loaner devices–like an I-Pad or a bedside PlayStation console & TV on a stand & movies &/or video games (Child Life experts can assist families with current offerings & tailor some things to a child's individual needs), formerly vouchers for free back massages, referrals to local activities including some with free entry for hospital families, games, movies, crafts, "therapy" events (like Flower Therapy & Cupcake Therapy), special guest visits (local librarians doing illustrated readings, magicians, clowns, student entertainers dressed as Disney characters, Santa visits, musical groups etc.), the Giving Library (where you can select a free book), printed activities, art supplies & activities, age appropriate medical subject books to instruct patients & siblings about certain conditions, printing services, & maps & advice on local activities & restaurants, etc.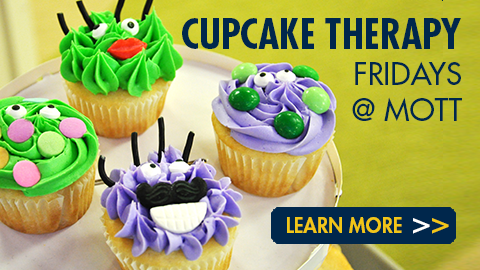 U of M's Hospital complex is also located within reasonable walking distance for some free campus offerings. There is a butterfly garden in the main hospital's interior courtyard & guidebooks at the FRC. There is an Arboretum with nature trails adjacent to the hospital & the Huron River. There are several campus museums nearby, like the Museum of Natural History, the Art Museum, & the Archeology Museum. Also, within the hospital itself there are several permanent art installations, like the quilted cell images along a hallway joining the new Mott Hospital with the old Mott/University Hospital. The Taubman Center has a rotating art exhibit on it's first floor & sometimes it spills into the nearby University Hospital common areas near the valet parking.
Well, those are many of my personally known "freebies" available via public libraries &/or the University of Michigan Hospital system. I've experienced lesser services at several other hospitals but each facility likely has multiple people & services to make the public's hospital visits as convenient as possible (like Wi-Fi for devices).
Later on, I'll try to add onto this post with some of the genealogical freebies I've encountered.
Note all images are from various Bing.com image searches…
Posts Related to Frugality:
Free Online Bible Study Courses
Commenting on "Only the Rich will Have Rights" Article
Anatomy of a Medicaid Physical
Getting Started
Free Genealogy Webinars Available!
Commenting on Genealogy Article
Textbook Freneticism
Textbook Freneticism, Part Deux
Transform Any Document into a Searchable PDF with Adobe's new FREE Scan App
Parenting Blogger Emily Austin on Turning a Hobby into a Full-Time Job — Discover
Rooted
Advice for the Young and Penniless Who Want to Travel. — The Shooting Star
Shorthand Hospital Run…
Get Started on WordPress.com with Video Tutorials — Discover
Family History Center Fun
Quick Homemade Ice Cream
Son's Surgery Stream-of-Consciousness
Four Years Ago Today, A Transplant Tale…
Chicken Soup–for the Soul?