BakoCarl of the Q-Tree has put together a beautiful presentation of gospel truth pertinent to these difficult days.  I will borrow liberally from him here, below italicized, & intersperse further thoughts & all images shown.  God Bless!
Millions in the U.S. either personally believe or support people who believe that:
Although the threat of spread of COVID-19 requires that businesses and churches must be closed, families isolated in their homes, people prohibited from using parks or walking alone on a deserted beach, it's acceptable for thousands of people to gather together for hours to protest police use of excessive force, and, in the process, killing and injuring people, looting and burning businesses.
Although 3,000 Black Americans are murdered by Black Americans every year without public protest, it's acceptable to riot, causing multiple deaths, hundreds of police injuries, and hundreds of millions of dollars of damage, because systemic racial prejudice by police is baselessly assumed as the root cause of the death of a drug addicted, porn acting, counterfeit money-passing career criminal with multiple convictions and jail sentences.
Although pets and other animals must be treated with care and compassion, it's acceptable to strike people you disagree with politically with bike locks, hammers, 2 x 4s and the like.
Although micro aggressions must be identified and stopped because they're hurtful, it's acceptable to loot and burn down businesses as a means of protesting policies or actions you disagree with.
Although COVID-19 requires that extreme isolation and quarantine actions be taken to prevent its spread, it's acceptable to require that COVID-19 positive patients be placed in nursing homes with elderly patients with comorbidities who are the most vulnerable group for death in the U.S. population.
Although your psychological health and physical well-being must be protected, it's acceptable to mechanically tear apart babies in the womb or cut the spinal cord of their exposed heads with scissors to kill them, and then to sell their body parts for thousands of dollars.
Although Socialist leaders and regimes have ruined the lives and caused the deaths of millions of people in the last century, it's acceptable to insist on more and more Socialist policies be included in the laws and services of our democratic constitutional republic, the most successful government on earth.
These "Although" and "it's acceptable" examples are just a few of the many inexplicable dichotomies that are integral to the destructive mindset of millions.
Most of us are bewildered at the lack of facts and logic that are inherent to this mindset.  We can't comprehend how these harmful views can be held by any rational person, let alone millions of them.
Our laws are generally based on our Judeo-Christian heritage, principles and beliefs.  And therein, I believe, lies the root of the problem.
The two great principles that form the basis of Jewish and Christian thought and practice are:
Deuteronomy 6:5  You shall love the Lord your God with all your heart and with all your soul and with all your might.
Or, more expansively,
Deuteronomy 10:12-13  And now, Israel, what does the Lord your God require of you, but to fear the Lord your God, to walk in all His ways and to love Him, to serve the Lord your God with all your heart and with all your soul, and to keep the commandments of the Lord and His statutes which I command you today for your good?
And,
Leviticus 19:18  You shall not take vengeance, nor bear any grudge against the sons of your people, but you shall love your neighbor as yourself; I am the Lord.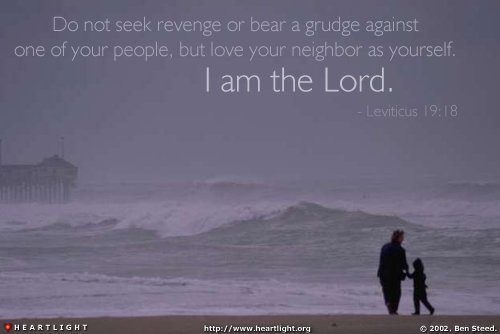 Leviticus 19:34  The stranger who resides with you shall be to you as the native among you, and you shall love him as yourself, for you were aliens in the land of Egypt; I am the Lord your God.
And, of course, as summarized by Jesus,
Matthew 22:36-40  Teacher, which is the great commandment in the law?  Jesus said to him, "'You shall love the Lord your God with all your heart, with all your soul, and with all your mind.' This is the first and great commandment. And the second is like it: 'You shall love your neighbor as yourself.' On these two commandments hang all the Law and the Prophets."
Love God and love your neighbor.  These are simple in concept, but, because we are weak, flawed and fallible humans, impossible in practice. 
But, these are God's commands for us and, because He knows they are impossible for us in practice, "He gave His only begotten Son, that whoever believes in Him should not perish but have everlasting life."  This is the Gospel that forms the beginning and foundation for our Christian beliefs.
If you try to apply general Christian teachings to support any of the "Although" and "it's acceptable" examples above, you will fail.
Do we have Christian principles that tend to support forming crowds to protest certain actions . . . crowds that are first merely disruptive, but then lead to disobeying police, physical violence, looting, burning of businesses and injury and death?
1 Peter 2:17  – Show proper respect to everyone, love the family of believers, fear God, honor the emperor.
Romans 13:1 – Let everyone be subject to the governing authorities, for there is no authority except that which God has established. The authorities that exist have been established by God.
Romans 12:18  If it is possible, as far as it depends on you, live at peace with everyone.
1 Timothy 2:1-2 – I urge, then, first of all, that petitions, prayers, intercession and thanksgiving be made for all people – for kings and all those in authority, that we may live peaceful and quiet lives in all godliness and holiness.
Do we have Christian principles that would in any way condone policies that endanger then result in deaths of thousands of elderly?  The elderly are not people who have become a burden on society and who are now subject to removal.
Leviticus 19:32 "You shall stand up before the gray head and honor the face of an old man, and you shall fear your God: I am the Lord.
Do we have Christian principles that even remotely permit the killing of a baby in the womb, let alone allowing a born baby to dehydrate and die over a period of days after birth?
Job 31:15  Did not He who made me in the womb make him, and the same One fashion us in the womb?
VC note:  I couldn't find an image for the Job 31: 15 passage so above & below are a Slight Mashup of the concepts expressed there…
Jeremiah 1:5  Before I formed you in the womb I knew you, and before you were born I consecrated you;
Do we have Christian principles that mandate or support Socialism as a form of government?
There are many Biblical examples for those that have material goods to remember and even be generous to the poor.  But there is nothing that mandates or supports local government in confiscating the wealth of those that have more and distributing it to those that have less.
We are guided in our ethics, our morals, and our sense of right and wrong by God's Word, our parents, our pastors, our friends and associates and the influence that God's Word has had on society as a whole and our general precepts and specific laws.
But, referring back to the destructive mindset, there are millions in our country who don't seem to be influenced by Judeo-Christian principles.  They seem to live at a different level of understanding than we do.  They don't need and won't accept facts or logic that contradict or show the negative consequences of their destructive mindset.
It's as though they have fallen under the influence and control of something or someone else.  Well, perhaps that is exactly the answer.
John 1:5  The Light shines in the darkness, and the darkness did not comprehend it.
Romans 1:28 Furthermore, just as they did not think it worthwhile to retain the knowledge of God, so God gave them over to a depraved mind, so that they do what ought not to be done.
1 Corinthians 2:14  But a natural man does not accept the things of the Spirit of God, for they are foolishness to him; and he cannot understand them, because they are spiritually appraised.
2 Corinthians 4:3-4  But even if our gospel is hidden, it is hidden only to those who are lost, whose unbelieving minds the god of this world has blinded, lest the light of the gospel of the glory of Christ, who is the image of God, should shine on them.
And that, I believe, is why it is entirely appropriate to label the violent demonstrations, the physical attacks on police and on the people supporting President Trump, the looting and burning of businesses, the resultant injuries and deaths, the recent calls to defund or disband those that enforce our laws, . . . all these actions operating in opposition to the Judeo-Christian principles that guide our lives . . . as evil, absolutely evil.
We may sooner or later get out of the messes that are near or at the level of a direct threat against the continued existence of our country, but we must not forget . . .
"If My people who are called by My name will humble themselves, and pray and seek My face, and turn from their wicked ways, then I will hear from heaven, and will forgive their sin and heal their land."
Please see the entirety of BakoCarl's post, linked immediately below, for more good stuff!!!
via Dear KMAG: 20200614 Open Topic
May we choose to act on the wisdom of the ages to love the Lord, to serve Him, to love our neighbors in the manner we would want to be loved by others & in the way that we love ourselves.  May we come to the Lord & seek His Face & His Grace to do unto others as we would have others do unto us regardless of how they actually treat us…
Take heart & do not be discouraged.  God is good & loving & desirous for us all to come to Him.  He will enable us to live in love with those about us, to forgive, & to be comforted & healed by His Mercy, Love, & Grace poured out to us all, through Jesus Christ His Son.
May the Lord guide us each on our own personal journey of faith, hope, joy, & love for Him & for our neighbor.  God Bless & Keep us all, in Jesus' Name!
Luke 10: 25-37
King James Version (KJV)
25 And, behold, a certain lawyer stood up, and tempted him, saying, Master, what shall I do to inherit eternal life?
26 He said unto him, What is written in the law? how readest thou?
27 And he answering said, Thou shalt love the Lord thy God with all thy heart, and with all thy soul, and with all thy strength, and with all thy mind; and thy neighbour as thyself.
28 And he said unto him, Thou hast answered right: this do, and thou shalt live.
29 But he, willing to justify himself, said unto Jesus, And who is my neighbour?
30 And Jesus answering said, A certain man went down from Jerusalem to Jericho, and fell among thieves, which stripped him of his raiment, and wounded him, and departed, leaving him half dead.
31 And by chance there came down a certain priest that way: and when he saw him, he passed by on the other side.
32 And likewise a Levite, when he was at the place, came and looked on him, and passed by on the other side.
33 But a certain Samaritan, as he journeyed, came where he was: and when he saw him, he had compassion on him,
34 And went to him, and bound up his wounds, pouring in oil and wine, and set him on his own beast, and brought him to an inn, and took care of him.
35 And on the morrow when he departed, he took out two pence, and gave them to the host, and said unto him, Take care of him; and whatsoever thou spendest more, when I come again, I will repay thee.
36 Which now of these three, thinkest thou, was neighbour unto him that fell among the thieves?
37 And he said, He that shewed mercy on him. Then said Jesus unto him, Go, and do thou likewise.
King James Version (KJV)
*
Luke 10: 25-37
New International Version (NIV)
The Parable of the Good Samaritan
25 On one occasion an expert in the law stood up to test Jesus. "Teacher," he asked, "what must I do to inherit eternal life?"
26 "What is written in the Law?" he replied. "How do you read it?"
27 He answered, "'Love the Lord your God with all your heart and with all your soul and with all your strength and with all your mind'[c]; and, 'Love your neighbor as yourself.'[d]"
28 "You have answered correctly," Jesus replied. "Do this and you will live."
29 But he wanted to justify himself, so he asked Jesus, "And who is my neighbor?"
30 In reply Jesus said: "A man was going down from Jerusalem to Jericho, when he was attacked by robbers. They stripped him of his clothes, beat him and went away, leaving him half dead. 31 A priest happened to be going down the same road, and when he saw the man, he passed by on the other side. 32 So too, a Levite, when he came to the place and saw him, passed by on the other side. 33 But a Samaritan, as he traveled, came where the man was; and when he saw him, he took pity on him. 34 He went to him and bandaged his wounds, pouring on oil and wine. Then he put the man on his own donkey, brought him to an inn and took care of him. 35 The next day he took out two denarii[e] and gave them to the innkeeper. 'Look after him,' he said, 'and when I return, I will reimburse you for any extra expense you may have.'
36 "Which of these three do you think was a neighbor to the man who fell into the hands of robbers?"
37 The expert in the law replied, "The one who had mercy on him."
Jesus told him, "Go and do likewise."
Footnotes:
a.  Luke 10:1 Some manuscripts seventy; also in verse 17
b.  Luke 10:15 That is, the realm of the dead
c.  Luke 10:27 Deut. 6:5
d.  Luke 10:27 Lev. 19:18
e.  Luke 10:35 A denarius was the usual daily wage of a day laborer (see Matt. 20:2).
f.  Luke 10:42 Some manuscripts but only one thing is needed