Recently I was reading within the comments section at a post at the Conservative Treehouse site (see link below) when I found a post referencing adoption & was inspired to reply.  Since it takes a lot of effort for me to compose certain types of writing on occasion I'll copy them here to the Special Connections blog & perhaps use them as inspiration for further thoughts shared.  This is one such occasion.  See immediately below the link for the original conversation…
Leaks Begin – FBI Contacts Accuser Deborah Ramirez…
(after initially publishing this post there was this further exchange at CTH)
How I closed my reply to the original comment got me thinking about how God has created a clear path for us to be made His Children, to adopt us as His own!  Well I didn't originally intend to do a lengthy sharing of scripture but this seems to be the direction this post is now heading.  God's plan to adopt us for Himself was foundational in creation!  The scriptures below come from BibleGateway.com & images from various Bing.com image searches…the highlights or emphasis (italics &/or bolding) are mine…
Romans 8
New International Version (NIV)
Life Through the Spirit
8 Therefore, there is now no condemnation for those who are in Christ Jesus, 2 because through Christ Jesus the law of the Spirit who gives life has set you[a] free from the law of sin and death.
3 For what the law was powerless to do because it was weakened by the flesh,[b] God did by sending his own Son in the likeness of sinful flesh to be a sin offering.[c]And so he condemned sin in the flesh, 4 in order that the righteous requirement of the law might be fully met in us, who do not live according to the flesh but according to the Spirit.
5 Those who live according to the flesh have their minds set on what the flesh desires; but those who live in accordance with the Spirit have their minds set on what the Spirit desires. 6 The mind governed by the flesh is death, but the mind governed by the Spirit is life and peace. 7 The mind governed by the flesh is hostile to God; it does not submit to God's law, nor can it do so. 8 Those who are in the realm of the flesh cannot please God.
9 You, however, are not in the realm of the flesh but are in the realm of the Spirit, if indeed the Spirit of God lives in you. And if anyone does not have the Spirit of Christ, they do not belong to Christ.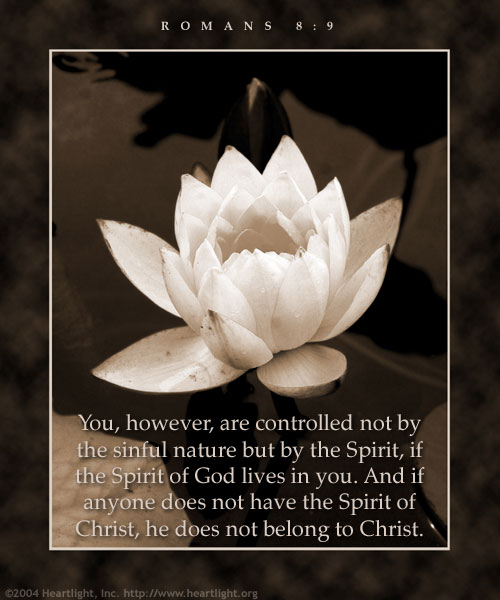 10 But if Christ is in you, then even though your body is subject to death because of sin, the Spirit gives life[d] because of righteousness. 11 And if the Spirit of him who raised Jesus from the dead is living in you, he who raised Christ from the dead will also give life to your mortal bodies because of[e] his Spirit who lives in you.
12 Therefore, brothers and sisters, we have an obligation—but it is not to the flesh, to live according to it. 13 For if you live according to the flesh, you will die; but if by the Spirit you put to death the misdeeds of the body, you will live.
14 For those who are led by the Spirit of God are the children of God.15 The Spirit you received does not make you slaves, so that you live in fear again; rather, the Spirit you received brought about your adoption to sonship.[f] And by him we cry, "Abba,[g] Father."
16 The Spirit himself testifies with our spirit that we are God's children. 17 Now if we are children, then we are heirs—heirs of God and co-heirs with Christ, if indeed we share in his sufferings in order that we may also share in his glory.
Present Suffering and Future Glory
18 I consider that our present sufferings are not worth comparing with the glory that will be revealed in us. 19For the creation waits in eager expectation for the children of God to be revealed. 20 For the creation was subjected to frustration, not by its own choice, but by the will of the one who subjected it, in hope21 that[h] the creation itself will be liberated from its bondage to decay and brought into the freedom and glory of the children of God.
22 We know that the whole creation has been groaning as in the pains of childbirth right up to the present time. 23 Not only so, but we ourselves, who have the firstfruits of the Spirit, groan inwardly as we wait eagerly for our adoption to sonship, the redemption of our bodies.24 For in this hope we were saved. But hope that is seen is no hope at all. Who hopes for what they already have? 25 But if we hope for what we do not yet have, we wait for it patiently.
26 In the same way, the Spirit helps us in our weakness. We do not know what we ought to pray for, but the Spirit himself intercedes for us through wordless groans. 27 And he who searches our hearts knows the mind of the Spirit, because the Spirit intercedes for God's people in accordance with the will of God.
28 And we know that in all things God works for the good of those who love him, who[i] have been called according to his purpose. 29 For those God foreknew he also predestined to be conformed to the image of his Son, that he might be the firstborn among many brothers and sisters.30 And those he predestined, he also called; those he called, he also justified; those he justified, he also glorified.
More Than Conquerors
31 What, then, shall we say in response to these things? If God is for us,who can be against us? 32 He who did not spare his own Son, but gave him up for us all—how will he not also, along with him, graciously give us all things? 33 Who will bring any charge against those whom God has chosen? It is God who justifies. 34 Who then is the one who condemns?  No one. Christ Jesus who died—more than that, who was raised to life—is at the right hand of God and is also interceding for us. 35 Who shall separate us from the love of Christ? Shall trouble or hardship or persecution or famine or nakedness or danger or sword? 36 As it is written:
"For your sake we face death all day long;
we are considered as sheep to be slaughtered."[j]
37 No, in all these things we are more than conquerors through him who loved us. 38 For I am convinced that neither death nor life, neither angels nor demons,[k] neither the present nor the future, nor any powers,39 neither height nor depth, nor anything else in all creation, will be able to separate us from the love of God that is in Christ Jesus our Lord.
Footnotes:
a Romans 8:2 The Greek is singular; some manuscripts me
b Romans 8:3 In contexts like this, the Greek word for flesh (sarx) refers to the sinful state of human beings, often presented as a power in opposition to the Spirit; also in verses 4-13.
c Romans 8:3 Or flesh, for sin
d Romans 8:10 Or you, your body is dead because of sin, yet your spirit is alive
e Romans 8:11 Some manuscripts bodies through
f Romans 8:15 The Greek word for adoption to sonship is a term referring to the full legal standing of an adopted male heir in Roman culture; also in verse 23.
g Romans 8:15 Aramaic for father
h Romans 8:21 Or subjected it in hope. 21 For
i Romans 8:28 Or that all things work together for good to those who love God, who; or that in all things God works together with those who love him to bring about what is good—with those who
j Romans 8:36 Psalm 44:22
k Romans 8:38 Or nor heavenly rulers
Romans 9
New International Version (NIV)
Paul's Anguish Over Israel
9 I speak the truth in Christ—I am not lying, my conscience confirms it through the Holy Spirit— 2 I have great sorrow and unceasing anguish in my heart. 3 For I could wish that I myself were cursed and cut off from Christ for the sake of my people, those of my own race, 4 the people of Israel. Theirs is the adoption to sonship; theirs the divine glory, the covenants, the receiving of the law, the temple worship and the promises. 5 Theirs are the patriarchs, and from them is traced the human ancestry of the Messiah, who is God over all, forever praised![a] Amen.
God's Sovereign Choice
6 It is not as though God's word had failed. For not all who are descended from Israel are Israel. 7 Nor because they are his descendants are they all Abraham's children. On the contrary, "It is through Isaac that your offspring will be reckoned."[b] 8 In other words, it is not the children by physical descent who are God's children, but it is the children of the promise who are regarded as Abraham's offspring. 9 For this was how the promise was stated: "At the appointed time I will return, and Sarah will have a son."[c]
10 Not only that, but Rebekah's children were conceived at the same time by our father Isaac. 11 Yet, before the twins were born or had done anything good or bad—in order that God's purpose in election might stand: 12 not by works but by him who calls—she was told, "The older will serve the younger."[d] 13 Just as it is written: "Jacob I loved, but Esau I hated."[e]
14 What then shall we say? Is God unjust? Not at all! 15 For he says to Moses,
16 It does not, therefore, depend on human desire or effort, but on God's mercy. 17 For Scripture says to Pharaoh: "I raised you up for this very purpose, that I might display my power in you and that my name might be proclaimed in all the earth."[g] 18 Therefore God has mercy on whom he wants to have mercy, and he hardens whom he wants to harden.
19 One of you will say to me: "Then why does God still blame us? For who is able to resist his will?" 20 But who are you, a human being, to talk back to God? "Shall what is formed say to the one who formed it, 'Why did you make me like this?'"[h] 21 Does not the potter have the right to make out of the same lump of clay some pottery for special purposes and some for common use?
22 What if God, although choosing to show his wrath and make his power known, bore with great patience the objects of his wrath—prepared for destruction? 23 What if he did this to make the riches of his glory known to the objects of his mercy, whom he prepared in advance for glory—24 even us, whom he also called, not only from the Jews but also from the Gentiles? 25 As he says in Hosea:
26 and,
27 Isaiah cries out concerning Israel:
29 It is just as Isaiah said previously:
Israel's Unbelief
30 What then shall we say? That the Gentiles, who did not pursue righteousness, have obtained it, a righteousness that is by faith; 31 but the people of Israel, who pursued the law as the way of righteousness,have not attained their goal. 32 Why not? Because they pursued it not by faith but as if it were by works. They stumbled over the stumbling stone.33 As it is written:
Romans 10
New International Version (NIV)
10 Brothers and sisters, my heart's desire and prayer to God for the Israelites is that they may be saved. 2 For I can testify about them that they are zealous for God, but their zeal is not based on knowledge.3 Since they did not know the righteousness of God and sought to establish their own, they did not submit to God's righteousness. 4 Christ is the culmination of the law so that there may be righteousness for everyone who believes.
5 Moses writes this about the righteousness that is by the law: "The person who does these things will live by them."[a] 6 But the righteousness that is by faith says: "Do not say in your heart, 'Who will ascend into heaven?'"[b] (that is, to bring Christ down) 7 "or 'Who will descend into the deep?'"[c] (that is, to bring Christ up from the dead).
8 But what does it say? "The word is near you; it is in your mouth and in your heart,"[d] that is, the message concerning faith that we proclaim:9 If you declare with your mouth, "Jesus is Lord," and believe in your heart that God raised him from the dead, you will be saved. 10 For it is with your heart that you believe and are justified, and it is with your mouth that you profess your faith and are saved. 11 As Scripture says, "Anyone who believes in him will never be put to shame."[e] 12 For there is no difference between Jew and Gentile—the same Lord is Lord of all and richly blesses all who call on him, 13 for, "Everyone who calls on the name of the Lord will be saved."[f]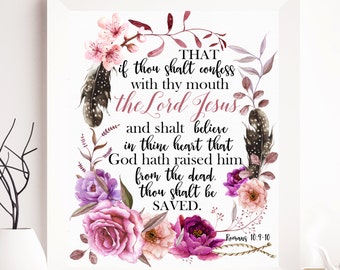 14 How, then, can they call on the one they have not believed in? And how can they believe in the one of whom they have not heard? And how can they hear without someone preaching to them? 15 And how can anyone preach unless they are sent? As it is written: "How beautiful are the feet of those who bring good news!"[g]
16 But not all the Israelites accepted the good news. For Isaiah says, "Lord, who has believed our message?"[h] 17 Consequently, faith comes from hearing the message, and the message is heard through the word about Christ. 18 But I ask: Did they not hear? Of course they did:
19 Again I ask: Did Israel not understand? First, Moses says,
20 And Isaiah boldly says,
21 But concerning Israel he says,
New International Version (NIV)Copyright © 1973, 1978, 1984, 2011 by Biblica
Romans 11
New International Version (NIV)
The Remnant of Israel
11 I ask then: Did God reject his people? By no means! I am an Israelite myself, a descendant of Abraham, from the tribe of Benjamin.2 God did not reject his people, whom he foreknew. Don't you know what Scripture says in the passage about Elijah—how he appealed to God against Israel: 3 "Lord, they have killed your prophets and torn down your altars; I am the only one left, and they are trying to kill me"[a]?4 And what was God's answer to him? "I have reserved for myself seven thousand who have not bowed the knee to Baal."[b] 5 So too, at the present time there is a remnant chosen by grace.6 And if by grace, then it cannot be based on works; if it were, grace would no longer be grace.
7 What then? What the people of Israel sought so earnestly they did not obtain. The elect among them did, but the others were hardened, 8 as it is written:
9 And David says:
Ingrafted Branches
11 Again I ask: Did they stumble so as to fall beyond recovery? Not at all!  Rather, because of their transgression, salvation has come to the Gentiles to make Israel envious. 12 But if their transgression means riches for the world, and their loss means riches for the Gentiles, how much greater riches will their full inclusion bring!
13 I am talking to you Gentiles. Inasmuch as I am the apostle to the Gentiles, I take pride in my ministry 14 in the hope that I may somehow arouse my own people to envy and save some of them. 15 For if their rejection brought reconciliation to the world, what will their acceptance be but life from the dead? 16 If the part of the dough offered as firstfruits is holy, then the whole batch is holy; if the root is holy, so are the branches.
17 If some of the branches have been broken off, and you, though a wild olive shoot, have been grafted in among the others and now share in the nourishing sap from the olive root,18 do not consider yourself to be superior to those other branches. If you do, consider this: You do not support the root, but the root supports you.19 You will say then, "Branches were broken off so that I could be grafted in." 20 Granted. But they were broken off because of unbelief, and you stand by faith. Do not be arrogant, but tremble. 21 For if God did not spare the natural branches, he will not spare you either.
22 Consider therefore the kindness and sternness of God: sternness to those who fell, but kindness to you, provided that you continue in his kindness. Otherwise, you also will be cut off. 23 And if they do not persist in unbelief, they will be grafted in, for God is able to graft them in again.24 After all, if you were cut out of an olive tree that is wild by nature, and contrary to nature were grafted into a cultivated olive tree, how much more readily will these, the natural branches, be grafted into their own olive tree!
All Israel Will Be Saved
25 I do not want you to be ignorant of this mystery, brothers and sisters, so that you may not be conceited: Israel has experienced a hardening in part until the full number of the Gentiles has come in, 26 and in this way[e] all Israel will be saved. As it is written:
28 As far as the gospel is concerned, they are enemies for your sake; but as far as election is concerned, they are loved on account of the patriarchs, 29 for God's gifts and his call are irrevocable. 30 Just as you who were at one time disobedient to God have now received mercy as a result of their disobedience, 31 so they too have now become disobedient in order that they too may now[h] receive mercy as a result of God's mercy to you. 32 For God has bound everyone over to disobedience so that he may have mercy on them all.
Doxology
New International Version (NIV)Copyright © 1973, 1978, 1984, 2011 by Biblica
Wow, I don't think that I ever really contemplated the process of how God adopted us (Gentiles) as His children by grafting us into the olive tree but that He also can cut off & also adopt & re-graft in His Chosen People, Israel.  So in a very real sense all of us can only become the True Children of God through faith, that is through faith in Jesus!
I've written previously on Christians & Jews being One in the Lord here (& didn't review that work prior to this post, so please excuse any repeats of thoughts here or there):
https://specialconnections.wordpress.com/2016/10/12/christianity-judaism-one-in-the-olive-tree/
Going back to the concept of family being more than blood a particular incident comes to mind.  Years ago, when my twins were young & before my daughter was born (like in 1996 or 1997) I attended a Stoddard Family Reunion hosted by my Taggart cousins in honor of their mother Jane Jones Taggart, whose mother Ruth Stoddard Jones was my grandpa Elzine Munger Stoddard's sister.
At this reunion there was a family history book shared called "The Generations of William Ellsworth Stoddard and Hattie Annabelle Cardinal, Before and After" that was given to each family in attendance.  This book was a significant springboard in my own genealogical pursuits in later years!
I got pretty sidetracked trying to find the online version, or at least info on, this book (I'd seen it before years ago but couldn't remember exactly where) but so far had no success.  My own previous post below came up on a search of DuckDuckGo.com for that material though, hmm…
https://specialconnections.wordpress.com/2018/06/21/family-find/
Well, I got thinking about when I'd seen something of that book previously & decided to check out my family trees on FamilySearch.org & Ancestry.com…so I found a source for the "Stoddard Blue Book", as I like to call the "Generations" book mentioned above.  This link was found at Ancestry.com on my sources of info on William Ellsworth Stoddard.
https://books.google.com/books/about/Generations_of_William_Ellsworth_Stoddar.html?id=bHWFGwAACAAJ
The Generations of William E. Stoddard and Hattie Annabelle Cardinal
H. Himes
, 1996 – 
154 pages
Bibliographic information
Checking WorldCat for a possible library location yields this:
http://www.worldcat.org/title/generations-of-william-e-stoddard-and-hattie-annabelle-cardinal/oclc/62073476
The generations of William E. Stoddard and Hattie Annabelle Cardinal
Author:
Harold Himes
Publisher:
Marquette, Mich. : H. Himes, 1996.
Edition/Format:
 

Print book

 : English
Rating:
Subjects
Library
Held formats

Distance

1.

Chicago, IL 60610 United States
Details
Named Person:
Stoddard family.; William E Stoddard; Stoddard family.
Document Type:
Book
All Authors / Contributors:
Harold Himes

Find more information about:
Harold Himes

OCLC Number:
62073476
Notes:
Accompanied by 10 laid in pages of family reminiscences and naming practices.
P. 11 is bound up side down.
Description:
154 pages : illustrations, facsimiles, maps, portraits ; 28 cm
Other Titles:
Generations of William Ellsworth Stoddard and Hattie Annabelle Cardinal :
Responsibility:
written and produced by Harold Himes.
I think this copy of the book was placed in the Newberry Library by my Aunt Pat (Patricia Kay Stoddard Armstrong Ziemba) for this is the genealogy library she uses as it's closest to her suburban Chicago home…
Here is the info on that citation I included at Ancestry, fyi…
Source Citation for "The Generations of William Ellsworth Stoddard and Hattie Annabelle Cardinal–Before & After"
Citation DetailsAssociated FactsMedia
Citation Information
Transcript

"WILLIAM ELLSWORTH STODDARD, b 12 Oct. 1863 in Dryden Township (Lapeer) Mich., d 25 Feb. 1957 in Detroit Mich.; m. 11 May 1889 to HATTIE ANNABELLE CARDINAL, b 25 Jan. 1869 in De Witt, Mich., d. 11 Mar. 1937 in Detroit, Mich. Her parents were George Delbert Cardinal and Sarah Hagerman Munger. Both William and Hattie are bur. in Woodmere Cem., Detroit, Mich."

Detail

unnumbered pages, top left of page says "8-01" referring to the Stoddard generational count; starting at "9-04"

Other information

on the same page are listed 7 children born to the marriage in Sawyerville and Detroit, Michigan: Hazel Wenonah, 1891; Ruth Anne, 1893; Sarah Helen, 1897; Kenneth Charles, 1899; Elzine Munger, 1902; Musabelle Althea, 1907; and Cardinal William, 1910

Web Address
Source Information
Title

"The Generations of William Ellsworth Stoddard and Hattie Annabelle Cardinal–Before & After"

Author

Harold Himes with large contributions by Patricia Kay (Stoddard) Armstrong

Note

called affectionately "The Stoddard Blue Book"

Publisher

apparently self-published by Harold Himes, no info is recorded in the

Publisher Date

Not given, roughly 1997 as that was the time of the

Publisher Location

Presumably the Upper Peninsula of Michigan, that was where Harold Himes' residence was at that time
Repository Information
Name

Valerie L Curren, private collector

Note

There may have been a copy donated by contributor Patricia K. (Stoddard) Armstrong to the Newberry Library in Chicago. Google search lists this book as published in 1996 by H. Himes, 154 pages…per a search for info on 9 August 2014.
Facts Associated with Citation
Name
William Ellsworth Stoddard
Birth
12 Oct. 1863 • Dryden Twp, Lapeer Co.,Michigan
Marriage
11 May 1889 • Cedar Twsp, Osceola Cty, Mich
Death
25 Feb., 1957 • Detroit, Wayne, Michigan, USA
Burial
Woodmere Cemetery, Detroit, Michigan, USA
In glancing over the citations above it becomes somewhat obvious (besides that this book is quite obscure) why it was so hard to find.  In the Newberry Library worldcat listing they have the title as "William E. Stoddard…" but the actual book title is "William Ellsworth Stoddard…" as I indicated in the Ancestry citation.  Perhaps that's one reason I was having such a hard time finding it?  Hmm…Who would have thought that I would be more "precise" in aspects of citation than would a genealogical/archival library!  & I have Zero formal training in these things!
OK, back to that late 90's reunion…there were various questions put forth to find some of the common traits shared by many of the descendants of William Ellsworth Stoddard & Hattie Annabelle Cardinal, like artistic, writing, poetry, or musical skills.  One discussion lead to an understanding of people who considered themselves to be part of the family of Stoddards even though they were not related by blood, marriage, or adoption.  These people were family of the heart.
There was one elderly gentleman who spoke very highly of my great grandfather, William Ellsworth Stoddard.  Apparently this man was a recent immigrant to the United States back in the earlier part of the 20th century & had befriended one of WES's grandsons (probably Harold Himes, the author of the above mentioned "Stoddard Blue Book") who lived in his grandpa's house at that time.  This immigrant friend was in danger of being deported & needed an American citizen to speak up for him & sign some documents & get involved.  WES listened to his grandson's recounting of his friend's situation & offered to step up & stand in the gap, as it were, on behalf of this recent immigrant.  In the 1990's this aged man spoke with great emotion of how this act of kindness to a stranger from my great grandfather made all the difference in his life, allowing him to continue to pursue his studies, career, & life here in this country rather than to have been returned to his less than desirable homeland in the Middle East, I believe.  This man looked on my great grandfather with a reverent near hero worship demeanor & was so considered a part of the Stoddard clan as to have been included in the invitation to that extended family reunion!
Well, I'm not going to belabor the point of family being more than just from blood; though the Blood of Christ is what makes all of us (who are willing to receive) members of the greatest family there is–the Family of God!  Many of us have likely known friends who are so dear as to be practically family.  They are often honored with "titles" like cousin, aunt, or uncle to reflect the closeness of those basically family-like relationships.  Some of us have experienced in this life the full-blown adoption into another family experience & know that family can be based on so much more than blood.
In our experiences with my mother's adoption, at least for Mom & I, it seems that Family is still based more on relationships than it necessarily is to blood, at least as far as Mom's birth family is concerned.  No matter how close Mom might get to her half sisters it is unlikely that she will ever consider them family in the same way that she perceives her brother Maynard, someone with whom she shares no blood but grew up alongside.
Family is a gift from God, both in our natural, earthly experiences & in our eternal, heavenly ones yet to come.  Won't you join us for that greatest of all family reunions yet to come?  The Marriage Supper of the Lamb!
Blessings to all & really hope to see you there…in Christ…
Following are many mostly scriptural images that relate to adoption & being part of the Family of God or even to the walk of faith.  They are in no particular order & just shared as an encouragement to walk out our faith in this life.  God Bless You All!!!